When I started the piles of things I thought most necessary for life in a tiny house over two months ago, I compared it to our experience moving into our first home. Then we were newlyweds, Jim was in the Army, and we were moving to New Jersey where he was stationed as a student at Fort Monmouth. It wasn't all that hard, the packing then, because honestly, we didn't have much – the essentials of housekeeping, and a box or two of home canned vegetables and at the last minute, some potatoes, onions and tomatoes from Jim's dad's garden – because there was room, in a manner of speaking.
I had to get in the car, place the broom and dustpan next to me and then close the door. And reopening the vehicle was going to be tricky – holding in everything so it didn't fall out when we extracted the items on top. But it worked, so we were determined to go by the same formula.
And as it happened the first time, other things found their way into our first apartment, just a little bigger than our tiny house. We used a borrowed truck to move out of there, and this time, a couple of loads with our Cheerokee.
But the issue I want to address here is this, you know the traveling gurus tell you to pack for your vacation, then leave half of it home? Well, I found that to be true for the tiny house, especially in regards to clothes. You see, I have this affliction. It is called the "Need to be ready for any possibility" syndrome as my husband might define it. And September generally comes in summer and goes out fall, requiring some seriously different clothes.
This September, if you remember, didn't run out of summer until very late, so late that we never even touched half of what I had packed. Oh, and this might be a good place to talk about packing or moving into a tiny house. NO dressers! Remember that! Suitcases beg to be unpacked. This I did remember before we packed one thing.
So we headed to good old Walmart, the department of plastic bins, searching for the right size to fit under our double bed. Did I tell you how happy I was that we did not have to sleep in one of the two lofts? Can you imagine two "older" people like us climbing up and down the ladder all night? Anyway, we had a bedroom. And we easily fit four of those under bed bins in sideways, so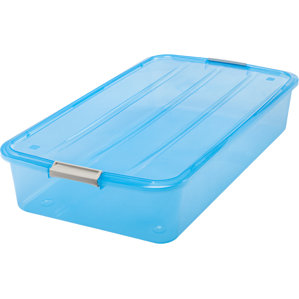 we could pull one out and retrieve our clothes, the walls being much too close to pull a bin out lengthways. And Jim picked out pretty aqua colored ones, so they did not feel quite so temporary.
Next time, I will pack for each season, then chuck half of it. Or at least I will say that now. Who knows what I will say when it is for real and for all year, not just an experiment.
Anyway, the Corelle dishes were 5 star.. (These are the last to go into my collection – fitting since they are called Indian Summer. I got complete service for two and a platter at Salvation Army.) They took up less space than my current dishes, looked good and mixed and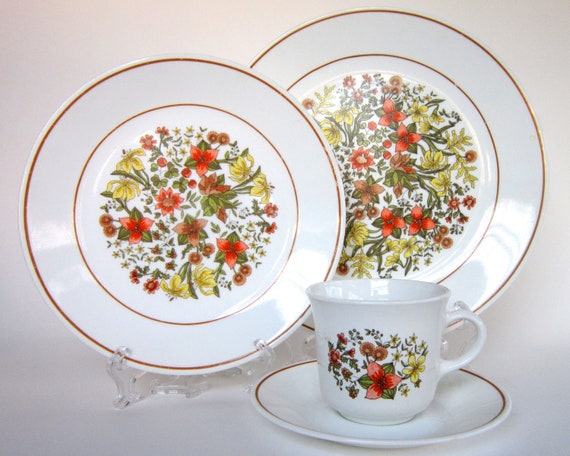 matched since my Corelle collection represented four patterns, all of which coordinated with the winter white plates. The crockpot and instapot will go again, definitely worth the space, though right now, I would give up the instapot if I had to. Mostly because I have a relationship with my crockpot and the instapot and I are new friends.
We have used cloth napkins for dinner since 1976, so I took them and I am glad. Well, not all of them, but it felt like they dressed our little space up a bit. And to be honest, Jim hardly used his, so there was not a ton of washing to them. And I used cloth placemats to turn our multipurpose plastic top table into a dining room table when it was needed in that function.
And I felt like the throw pillows we took to dress up the bed and the sofa were worth it. They made it feel like home and not just camping out.
Another thing I learned, magnets are your friend, especially the cup hook kind that will
stick to the side, or front, of your fridge…to hold cups, hot pads, an apron, or even recipes that have been hole punched and you still need them for those salads or cakes you don't make all the time. I was glad for my over the door hooks for hang up clothes – not many but some church clothes and jackets, and one of those shoe pocket things. It is amazing how useful they can be, and not for shoes. Honestly, I only wore one pair pretty much the whole time. But then, it did not snow, so it worked fine.
Well, here we are, back where we started. Sort of. Now we are seriously working on downsizing to be ready for the real thing, a much smaller domicile. Just when we will be moving again, I don't know, but if you want to join me on the trip to getting there, watch for future posts.
by Carol Brennan King