Weeks ago, as I packed for Tiny House life, I knew there would be neither room for my red and yellow party dishes for 16 or even seating for 16. Unless of course, it was a picnic, and the table service then would come from my picnic carry-all of red disposable plates, plastic flatware and cups.
However, realistically, it is past the middle of September in northeastern Pennsylvania and picnics have moved into the iffy neighborhood.
So, I'm thinking of either an intimate sit-down supper for four or a very casual dessert thing for six -read that as us and four or five very close friends, more if it is a warm evening.
Our tiny house has an eight foot 'sofa', one easy chair and two folding chairs. We also have a 30 x 48 inch table; read that entertainment center, dining table and writing center, depending on our needs.
For the dessert party, I'm thinking of a crockpot of warm pumpkin dessert cake or apple pie filling, a tray of scoops good vanilla ice cream (prescooped and frozen), and maybe a selection of toppings: caramel and chocolate syrups, and whipped cream and maybe some cookies. Clearly easy, to set up on the counter – wooden inserts on the stainless steel double sink, and everyone should find something they like.
Or that intimate supper party, will move the table so it is at right angles from the window, allowing two to sit on the 'sofa' and two in chairs. Then with a grand flourish, I will pull a salad from the fridge, hearty chicken stew (maybe) from the crockpot and serve blueberry dumplings from the cast iron skillet.
Of course, no one will eat too much because they do want to be able to squeeze their way back out.
I can hardly wait to pull off these events as soon as I can get to the store. Meanwhile, I have marshmallows and cookies and a hubby who loves to build fires in the fire pit.
Oh, maybe some of you faithful readers remember I talked about an Instapot. We do have one and use it, but… We got the smalle
st one and it is great for us. For entertaining, I needed the great crockpot given to me at Christmas a couple years ago. Like the Instapot, it has a saute feature, but it is much bigger, and it great for roasting a whole chicken or baking a cake that is easy to serve.
Anyway, if you have any questions about life in a tiny house, let me know and I will try my best to answer.
Slow-Cooker Pumpkin Dessert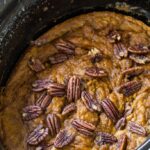 2 (15-ounce) cans of pumpkin
1 regular-size box of yellow or spice cake mix
1 cup butter (2 sticks) chopped
1 cup coarsely chopped pecans or walnuts or not, as you like
Spread pumpkin into a lightly butter or sprayed 6 quart crock pot. Because mine is rectangle shaped, it makes serving easy.
Sprinkle cake mix on top.
Scatter the chopped sticks of butter over the top.
Cover and cook on high for two hours.
Uncover, stir, sprinkle nuts on top if using. Recover and cook on HIGH 1 hour
Note I got my original recipe at https://spicysouthernkitchen.com/slow-cooker-pumpkin-cake/