Some of you asked for recipes for the cookies at our last class, so here goes. I will post the recipe in my file, and notes about what you can do to alter it to your taste. These are always on our Christmas trays. Hope you enjoy.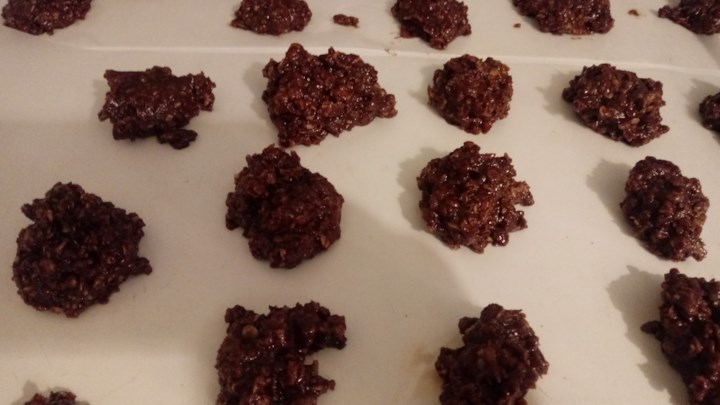 No-bake cookies
Melt 4 ounces (1 stick) butter in saucepan over medium heat cut into pieces so it melts more uniformly and doesn't burn
Stir in 2 cups sugar, ½ cup milk, ½ t. salt and 1/3 cup cocoa. You can use up to ½ cup cocoa if you want it more chocolatey. And when I didn't have milk, I used evaporated milk out of the can.
Bring to a boil for one minute
Remove from heat and stir in 1 cup peanut butter, 3 cups quick oatmeal and 1 t. vanilla. If you want to use less peanut butter, you can. You can also omit it if you want to.
Drop by teaspoon onto waxed paper to cool.
Store in a sealed container
Meringue Cookies or Forgotten Cookies
Turn oven on to 325
Place 4 egg whites (room temperature) in a glass or stainless steel bowl with ¼ t. cream of tartar. Beat on high speed until meringue makes soft peaks
Don't use plastic   bowls. I rinse my bowl and beaters with hot, hot water after washing to make sure there is not grease or oil at all on them. It will break the meringue down.
3. Gradually, a tablespoon at a time, add 1 cup sugar beating on high after each addition until sugar is dissolved. Continue beating till glossy peaks form, about 7 minutes
4. Stir in a few drops of food coloring of choice and a teaspoon of vanilla or mint flavoring
5. Stir in a cup or more of mini chocolate chips, regular chocolate chips or chipped andes mints.
6. Drop by teaspoon onto parchment paper covered baking sheet. This recipe makes 48 spoon sized cookies.
OR using a quart size freezer bag, cut a hole in one corner, fill the bag with half the recipe and gently squeeze out cookies. I do this for the tiny ones I am going to put together with chocolate
7. When you have filled two cookies sheets, that's what this recipe makes for me…put in preheated oven. Turn temperature to 300 for 5 minutes and then turn off. Leave cookies in oven overnight or at least for 5 hours. They can be eaten as is.
NOW, when I make the smaller cookies, and they are ready to fill, I melt 4 ounces of dark chocolate in the microwave, stirring every 30 seconds or until smooth. Then dip the bottom of one cookie into the chocolate and quickly stick a second one to it and let set up on the parchment covered baking tin.
I used a 70 or so percent chocolate because Beth likes that. But you can use a lower semisweet chocolate bar or chocolate chips.
Keep in a sealed container. Nice in a glass container for display. And you can sprinkle them with crushed candy canes at Christmas.
Chocolate Chip Cookies
Preheat oven to 350 degrees F (175 degrees C).

 1 c.  softened salted butter
1 cup white sugar
1 c. brown sugar (packed)
2 eggs room temperature
2 t. vanilla
1 t. baking soda
2 t. hot water
½ t. salt
3 c. flour
2 c. semisweet chocolate chips
 1 c. chopped walnuts or more as desired
1 cup dried cranberries or cherries if desired

Cream together the butter, white sugar, and brown sugar until smooth.
 Beat in the eggs one at a time, then stir in the vanilla.
 Dissolve baking soda in hot water. Add to batter. You can just stir the baking soda in with the flour, etc, but add the 2 t. water or more vanilla
Stir in flour, chocolate chips, dried fruit and nuts. Drop by large spoonfuls onto ungreased pans. I used parchment paper on my trays.
Bake for about 10 minutes in the preheated oven, or until edges are nicely browned.
Or just add the walnuts and dried fruit to your own favorite chocolate chips cookie recipe
 I put the two trays into the oven at the same time.  At the five minute mark, I turned them around and put them on the other shelf ( so they would bake evenly) putting them down a little hard to the batter could settle a bit. This keeps them from drying out. Don't bake them till brown unless you like a hard cookie.